Popular IceStone Colors
See Our IceStone Gallery
IceStone Recycled Glass Countertops are created from core ingredients that include 100 percent recycled glass, portland cement (basic ingredient of concrete) and non-toxic pigments. Slabs are precast with given measurements of 52.5 inchesx96.5 inchesx1.25 inches (35 square feet). Color versatility is available in neutrals, rainbow-like aggregates and dynamic jewel tones, and custom color choices can be arranged as well.
The company bases its development of countertop surfaces on the well-being of its employees, customers and the planet in general. In the sense of repurposing and sustainability, IceStone has redirected millions of pounds of glass directly out of landfills for use in their production facilities.
IceStone's material content is adaptable as well to those interested in green projects and LEED participation (Leadership in Energy and Environmental Design) for point acquisition.
Responsible use with elegance in mind is IceStone's way of representing their customers with the best in glass surfaces whether for home countertops, vanities, tabletops, desktops, backsplashes, window areas or for retail and food establishment cash wrap use.
Advantages of IceStone Recycled Glass
The advantages of IceStone are based not only on its resistance to scratches, ultraviolet (UV) rays, heat and cold temperatures, but on its overall density and strength along with its environmentally safe production and use of non-toxic ingredients. IceStone also offers a residential and commercial 10-year Limited Warranty on any installations that are completed through an IceStone certified fabricator.
No petrochemicals or plastic resins are used in the making of IceStone and no part of its processing procedure involves quarrying materials. It is not an engineered stone product. IceStone honors the health and well-being of those producing its countertop related products as well as consumers using it in residential and commercial settings.
Approximately 70 percent of what goes into IceStone materials are recycled, and every slab is locally made. IceStone is also B Corp certified for social and environmental performance as well as Cradle to Cradle (Silver) certified, which indicates IceStone's commitment to a continual improvement process concerning:
health of materials used
the reutilization of materials
promotion of both carbon and renewable energy
water conservation
social fairness – supports operations that honor all those affected by the use or reuse of an IceStone product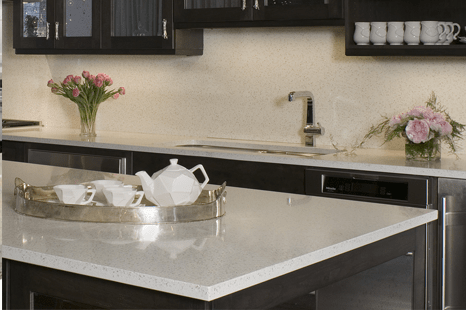 IceStone Care and Maintenance
Sealing
As IceStone contains concrete, it does require maintenance like any concrete surface. Manufacturer recommendations suggest that sealing be completed at least once a year. To maintain maximum protection, several applications of a sealer that penetrates are suggested as is an application of topical wax to gain even further protection.
Cleaning Products
IceStone recommends specific cleaning products. Any other products used should not contain chlorine bleach, acid, citrus based scents or ammonia. Surface cleaning can be done with a damp cloth and specific cleaners.
Spills and Stains
If spills occur with acid based liquids, coffee, wine, or fruit and vegetable juices, they should be immediately wiped away with water and a damp cloth. Any stains that remain can be removed with a poultice. If etching happens because of acidic liquid spills that have caused discoloration, dullness or surface erosion, an IceStone customer service specialist should be consulted, and if sealing or resealing is necessary, IceStone should be contacted as well.
Heat and Scratch Prevention
In spite of IceStone's resistance to scratches and heat, any possible heat penetration or scratches can be resolved with the use of hot pads, trivets and cutting boards on surfaces that need protection. Also, the use of trays or other protective dishware can be used under coffee makers, soap dispensers and other items where heat or water can leave scratches, water marks or food stains.
Any questions or inquiries concerning IceStone can be addressed by completing the Contact form. Simply click the button and fill in the form or give Marble Concepts a call and a representative will get back to you with the information you need to begin your quest to find a green alternative to your countertop surface needs.
Popular Manufacturers We Carry