Popular Viatera® Quartz Surface Colors


See Our Viatera® Quartz Surface Gallery
LG Viatera Quartz Countertops
Viatera Quartz Countertops were originally affiliated with LG, a South Korean company that produced innumerable products related to electronics, chemicals and solar energy. Today, Viatera (Italian for "by way of the earth") is now associated with the LG Hausys' brand of Quartz countertop surfaces.
Viatera is comprised of all-natural, 93% (crystalline) quartz that has been crushed and blended with polyester resin binders to create an almost impenetrable countertop material. The manufacturing process makes Vitatera a top-rated countertop amongst consumers due to its non-porous nature, its durability and its resistance to heat and stains. In addition, its finished surface requires no sealing. As Viatera is an all natural product, its surface colors, texture and shading will vary, and the line's current color selections include over 60 styles and designs, which are grouped in gray, tan and beige color schemes.
Advantages of Viatera Quartz Surfaces
The advantages of Viatera are many and usually center around the all natural non-porous nature and consistency of the surface finish itself. It is an extremely adaptable material for kitchen and bathroom use as well as for flooring. The advantages, assets or benefits of Viatera include:
Resistance
Viatera is highly resistant to stains, scratches and chipping, as the hardness of natural quartz makes it literally impossible to damage. Viatera is resistant to heat as well, but some protection is suggested when using hot pans or other appliances that can produce high heat levels, particularly when they are in direct contact with surface areas.
Durability
Durability is unmatched with Viatera. The manufacturing process has allowed superior quartz clarity to be perfectly integrated with the polyester resin technology that results in a highly pigmented and colorfast product, which is not only non-porous but resistant to just about anything that meets its surface.
Color Selection
The color selections offered with Viatera are natural and range from soft and comforting to penetrating and dramatic. With a host of selections, along with an integration of rich yet natural color and varying levels of granulation within the finished surface, there is little that compares to the richness that Viatera offers.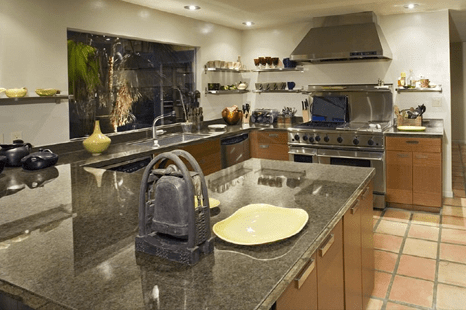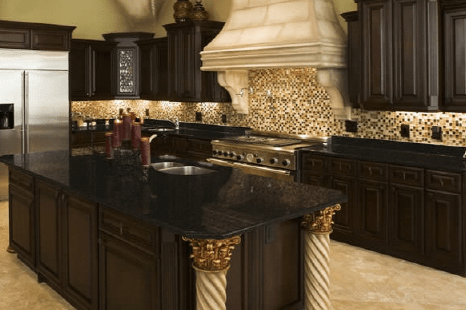 LG Viatera Quartz Care and Maintenance
Stain Resistance
With Viatera countertops being resistant to most everyday stains like coffee, tea, juices, wine, fruits and vegetables, little cleaning is required other than the use of a damp cloth and a mild detergent. If a spill has dried, a non-abrasive scrub pad can be used to remove it, followed by a wet cloth to whisk away any remaining residue.
Tougher and Stubborn Stains
Tougher spills or stains such as grease, gum, paint and harder to remove substances can be gently removed with a razor type scraper. If any metal color marks remain from scraping, an approved cleaner can be used with a non-abrasive pad and any marks buffed out with a wet cloth.
With more stubborn spots or stains, use wet paper towels and a recommended cleaner and apply them to the surface area and allow them to remain for a minute or two. Continue with any further cleaning and buffing.
Darker Countertop Care
Darker quartz countertops may require more frequent cleaning and ongoing maintenance, as fingerprints, dust, watermarks, metal marks, food droppings and other matter will be more apparent on darker surfaces. Any of these marks can be removed with a non-abrasive pad and products that are approved for use on quartz countertops.
Damaging Products
Viatera can withstand just about anything placed on its surface, but there are some products, like solvents and chemicals that can be damaging. Strictly avoid anything that contains trichlorethane, methylene chloride and bleach. Any one of these can cause damage to the surface of Viatera and discolor it. If they are spilled on the surface of the countertop, immediately wipe them away, rinse the area with water, and clean the space with a cleaner that is vinegar-based. If any staining goes unresolved, contact the Viatera installer or supplier.
Abrasive and Alkaline Products
Abrasive and alkaline cleaning products should also be avoided as well as rough, green scrub pads or any other abrasive pads that can dull Viatera's surface. If you are going to try a new cleaning product, always test it in an area that won't be affected.
Intense and Prolonged Heat
Intense, prolonged heat is something else that should be avoided as it can damage Viatera's surface. Keep a trivet or thick hot pad handy to absorb any heat from pans, dishes or appliances. The same holds true for certain ceramic dishes or heavy appliances as they can be damaging to a countertop. Chipping or cracking can also occur if the impact from any pan, dish or appliance is strong enough.
Mild Alternatives
Just remember to use mild, bleach-free, non-abrasive cleansers for the care of a Viatera Quartz surface. Green cleaners, diluted vinegar cleaners and glass and surface cleaners are approved suggestions.
A Viatera Quartz countertop is a sensible yet luxurious alternative to almost any countertop available today. Marble Concepts specializes in fabricating and installing Viatera Quartz countertops for kitchens, bathrooms, living rooms or any other area where their 25 plus years of creativity takes them. If you're ready to take the quartz or natural stone plunge for the sake of you and your countertops, complete the contact form on the website or give us a call. We'll be happy to hear about your project and how they can help you find the countertops of your dreams.