Popular Corian Quartz Colors








See Our Corian Quartz Gallery
If you love the look of natural stone but are not a fan of the maintenance that comes along with it, Corian Quartz may be the perfect option for you. The countertop combines science with nature. Pure quartz crystals are used to create a look that appears as if pure diamonds had been crushed for your countertop. Light bounces from the countertop, creating a stunning look for your kitchen or bath. Not only is the countertop beautiful, it is also GREENGUARD Certified which means it is low-emitting. It is also high-performance and requires very little maintenance to keep its look.
What is Corian?
Corian was one of the first engineered stone countertops, created in 2000. The surface is created from pure quartz crystals that keep their looks and survives just about anything your family can throw at it. It is stain, crack and heat resistant. Quartz is one of the hardest stones on Earth with only diamonds and sapphires measuring higher on the Moh's Hardness Scale. The countertops are manufactured using the Breton vibrocompaction casting process. Corian uses only the purest material as the company understands that the quality of the final product is based on the quality of the raw materials.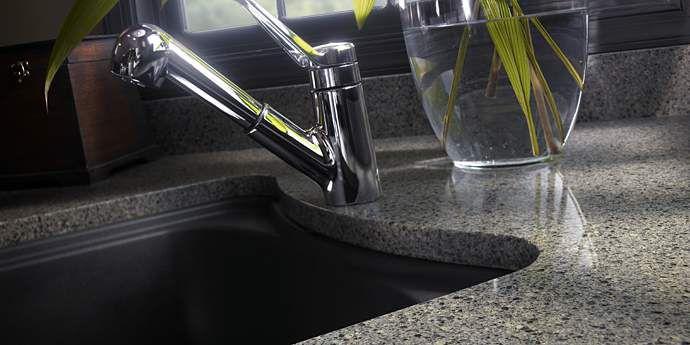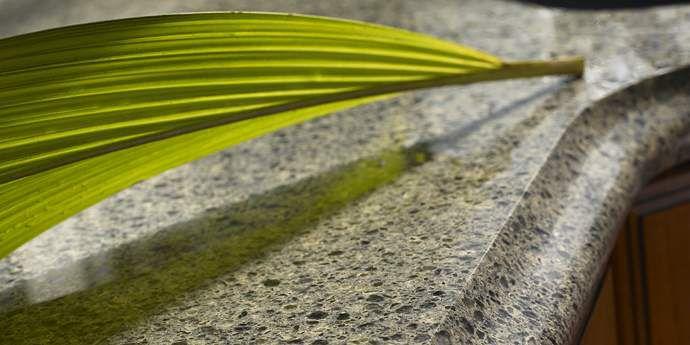 Corian Quartz Countertop Colors
With more than 50 colors to choose from, you can find a Corian countertop that matches any décor. You can choose from the pebbled look of Toasted Almond or create the look of marble with Evergreen. If you want a bold, bright look for your kitchen or bath, you can choose the stunning Indus Red or Galaxy Black. No matter which color you choose, you know you are getting the highest quality of engineered countertop available.
Advantages of Corian Quartz
Of all the engineered stone countertops available, Corian quartz is made from the finest materials. The counters are made of a high percentage of quartz so you get a countertop that is one of the hardest materials available. It is stain-resistant and durable. Because it is non-porous it is not susceptible to mildew, mold or bacteria. The product is also backed by a 10-year limited product warranty.
NON-POROUS
TRUSTWORTHY
DURABLE
CAREFREE
STAIN-RESISTANT
HEAT-RESISTANT
Corian Quartz Care and Maintenance
Corian quartz requires very little maintenance but there are things you should do to keep it looking luxurious for years to come. You should never use harsh or abrasive chemicals on your countertops. Instead, clean the counters with a mild soap and water. Clean up spills immediately. Even though the counter is stain resistant, some substances can damage the surface including citrus juice, wine and vinegar. Wipe those spills up as soon as possible. Use a cutting board both to protect your counter and your knives. Although the counter is heat-resistant, you should use trivets and hot pads as grit trapped on the pan could scratch the surface.
If you are considering Corian quartz for your kitchen or bath, contact us today to learn more. Our friendly customer service representatives are ready to help guide you through the project so that you get the quartz countertop that is perfect for your family.
Popular Manufacturers We Carry