There are several homeowners and interior designers who automatically think about granite when stone countertops are being considered for their kitchen and bathroom countertops. On the other hand, there are those who have taken the time to educate themselves on the benefits of engineered stone (quartz) countertops. Quartz countertops are available in many styles, colors, and textures that add a sophisticated and luxurious look to any kitchen decor.
It's safe to say, granite countertops are, and always will be, in high demand; however, recent consumer reports suggest that quartz is now leading the race as the material of choice for kitchen and bathroom countertops. Two of the most popular brands of engineered stone countertops in the marketplace today are Silestone and Caesarstone. We're going to take a look at both of these engineered stones and see why they're so popular in home design.
What is Silestone?
Silestone is made of 94 percent quartz that's bonded together with a variety of adhesives and resins, which provides a durable and incredibly hard surface. Silestone has a very high resistance to scratches, dents, and stains. Since Silestone is dense and non-porous, it doesn't require sealing or absorbing liquids like natural stone countertops.
When you have a Silestone countertop, you don't need to worry about permanent stains from liquids like juice, wine, oil, coffee, mustard, or other liquids commonly used in the kitchen. It's available in several colors, patterns, and styles that are uniform throughout the slab. Silestone can complement any kitchen, and if you like to cook? This countertop material will make a perfect addition to your kitchen.
What is Caesarstone?
Caesarstone is one of the most recognizable brands of quartz countertop surfaces in the industry. It's made with 93 percent quartz and seven percent polyresin. Caesarstone is available in a wide range of styles with several that imitate the look of natural stone. Just like its counterpart Silestone, Caesarstone doesn't require sealing, and soap and water are all you need to keep it clean.
Caesarstone has high-quality aesthetics and it's sustainable, durable, versatile, non-porous, and easy to maintain. It can be used for a variety of applications throughout the home. Caesarstone is suitable for bathroom vanities, kitchen countertops, backsplashes, and more. Engineered stone is a viable alternative as opposed to natural stone surfaces, and it's easy to see why Caesarstone is such a popular choice.
Silestone vs Caesarstone
Color Selection
Silestone generally has a better selection of colors to choose from than Caesarstone does, which can benefit the consumer, depending on individual tastes and preferences. When it comes to the finished product with the edging selection and edge profiling, Caesarstone provides more diversity and easily wins this one.
Durability
For durability and hardness, Silestone comes in with a rating of 10 while Caesarstone still has an impressive rating of seven. Both materials are rated by using the Mohs Hardness Scale, which rates the mineral's ability to resist scratching when another mineral is used to scratch the mineral being tested.
Composition of Quartz
The amount of quartz in a Silestone countertop must be at least 90 percent; however, most manufacturers use a ratio of 94 percent. On the other hand, Caesarstone countertops contain 93 quartz, and this small variation between the two doesn't change the durability, feel or look of the stone.
Warranties
Most Silestone retailers provide a 10-15 year warranty on their slabs; however, the warranty is also dependent on the slab or even the dealer that you purchased it from. Caesarstone countertops come with a limited lifetime warranty on all of their products. Although quartz countertops will last for decades with minimal maintenance, it's nice to know there's some type of warranty with both brands in case you need it.
Cost
Both Silestone and Caesarstone are fairly close in price. On average, Silestone costs between $50sqft to $70sqft while Caesarstone runs about $60sqft to $80sqft. Since Caesarstone is imported, the difference in price basically comes down to the cost to ship it. The price per square foot can also vary widely from one dealer to another.
The Final Verdict
Silestone and Caesarstone are both high-quality products, and you can't go wrong with a quartz countertop in your kitchen or bathroom. If you're trying to stay within your budget, then Silestone is the countertop you should choose, but if you want more bold textures and colors, Caesarstone is the logical choice.
Regardless of your choice, either Silestone or Caesarstone will be a solid investment for your home. If you're ready to start the process of selecting a slab for your countertops and building your dream kitchen, please fill out the contact form for more information.
Brochure
Silestone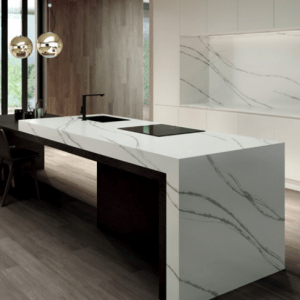 Caesarstone